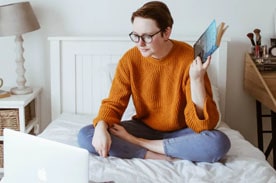 As a parent, your top priorities are to set your child up for success as an adult and to see them happy throughout their life. Right now, you've made the decision to homeschool them and want to make sure they are having a meaningful experience academically and emotionally. They might be struggling a little, as homeschool is different from the traditional school they were in before. You want to do whatever you can to help them love their learning experience!
Here are some ways you can help your homeschooled child succeed.
1. Set a good example
One of the best advantages, but also one of the biggest challenges, of homeschool is that it's self paced. At home, your children make up the entire class so you have the flexibility to move at their pace. Because of that, it's easy to fall behind or get distracted. When it's on you to manage your child's education on top of your other responsibilities, it's common for things to fall through the cracks.
This is where you come in as a role model. When life gets busy, show your child that prioritizing your responsibilities is a must. They will learn from your actions more than your words, so show them that it's never ok to skip out on the important things like school, a healthy diet, family duties, and the things that really matter.
2. Encourage them to connect.
A good education matters a lot to you and your child, but it's not the only priority in your lives. Your child might be gifted in sports, art, or music and need to dedicate substantial time to pursuing those passions.
Encourage your child to connect with their peers in social settings by helping them pursue activities they love. Having a support system outside of their home can help them stay motivated.
Help them to find communities online as well. Assist them in finding safe, positive, online spaces where they can meet and share experiences with other homeschool students facing many of the same challenges and accomplishments they are.
3. Ask questions.
Young adults often struggle with expressing their feelings openly. If they are struggling with a subject, they might feel embarrassed to openly admit it. On the other hand, if they really love something, they might not be making it the big deal they should!
It's on you as a parent to ask your child questions in a way that makes them comfortable. Don't push too hard for answers in a way that shuts them out, but don't be afraid to dig into their worries, fears, dreams, and feelings. Deep down, they will appreciate that you care.
4. Give them their independence.
You're an amazing parent, but understand you might not be the most qualified teacher. Your child has so much potential and you want to give them every chance at getting everything they want in life! It might be time to give them some independence, even as they live at home, by enrolling them in an online high school. Accredited online high school programs offer the rigor and talented faculty traditional schools offer, while allowing them to develop a sense of drive and determination.
Find the Best High School Program for Your Child
Online high school is becoming an increasingly accepted educational method. The ICS Canada High School program is structured and comprehensive, with a testing method that features exams at the end of every lesson and self check exercises so you are always have an understanding of your child's progress. The core-curriculum, instructors, and student-group are the predominant reasons why parents of homeschoolers find ICS to be a benefit to their child. Give us a call at 1-888-427-2400 for more information.