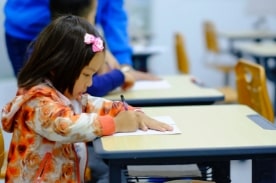 Learn more about teaching methods to help your child succeed
As a parent, you're interested in providing the best and most straightforward education for your child. Whether that means choosing a homeschool program, making sure they have a good experience in a public school, or even making a move to enrol them into private school, you want to give them access to as many opportunities as possible. You also want to make sure you can help and support them when they get stuck! But if you haven't studied to become a teacher and you've been out of school for a while, understanding the best way to assist them in learning new skills can feel frustrating.
A teacher's aide is the teacher's right-hand person, trained to understand how each child learns and develops, assist with student questions, and work with children to ensure they understand the material being taught. That's why learning a bit about becoming one can be beneficial to your child's education! Here's how the online, self-paced Teacher Aide Diploma Program from ICS Canada can help you feel confident.
Make learning effective by understanding your child's development
Not everyone learns in the same way. If you're a visual learner and your son or daughter understands information faster when they hear it, you may find yourself stuck when you're trying to explain homework in a way that makes sense to you. By learning about the different ways kids absorb information and process what they learn, you'll be able to quickly find the best method to help your children understand what they covered in school.
If you think about it, being a parent is the ultimate teacher, as you're always teaching your children new things and helping them to learn outside of school. Finding ways to make learning fun can help your child understand concepts more effectively. With each year that your child grows, their emotional and mental needs change. You can better support them by understanding and relating to your child in the different points of their development, and in turn, help them get better scores in school.
Pick up ideas on how teachers develop the content your children learn
Planning out curriculum content isn't an easy job. Whether you're sending your children to public or private school, or you're taking on the role of teacher by homeschooling, understanding how and why certain subjects should be covered can make getting through homework a much easier process. You'll get an overview of the different content and skills taught from preschool to high school in the fourth instruction set of the ICS Canada Teacher Aide Program. Another part of understanding the curriculum and content your kids will learn? The technology that is used in classrooms and for educational support!
You'll cover information on different ways teachers will use technology in the classroom and how the internet and online research can be helpful to your student's success.
Recognize areas where your child may need extra attention
When your child learns at what's considered a normal pace, even the occasional struggle with a subject such as math or reading can be overcome with a bit of work. However, when they learn at a different speed than the others in their class - or even you - it can be tough to understand how, exactly, you should approach helping them.
If they take in information a bit slower, you may find yourself frustrated trying to help them understand at a pace that's more familiar to you. If they absorb information like a sponge, you could also find yourself stressing about getting them the more challenging lessons they need so they aren't bored. Whatever the case, knowing how to handle different learning speeds and how to recognize when there might be an issue early on to potentially seek outside guidance can help you help your child be as successful as possible!
ICS Canada's flexible Teacher Aide course can help you build confidence
The biggest worry most parents face is the idea that their child might struggle in school. Helping them understand and learn is one of your most important priorities. Through completing the online Teacher Aide program, which can be done on your schedule from home, you can pick up the tools, tricks, and knowledge to make evening homework time — or even homeschooling — fun and helpful. Want to know more about getting started? Speak to one of our Admissions Team at 1.888.427.2400!