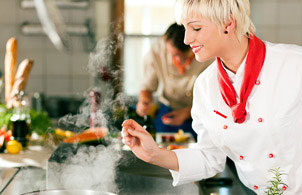 The Gourmet Cooking Certificate Program teaches the skills that can help you create delicious and memorable cuisines. This is a great option whether you want to improve your skills professionally, or in your own kitchen for friends and family. Here are a few qualities that effective cooks have in common:
Self-motivated: You like to take charge of projects and organize tasks.
Organized: You keep food and cooking ingredients in the right places.
Flexible: Complicated recipes often require time and patience.
Healthy: You are conscious of healthy eating and lifestyle habits.
Detail oriented: It's important to have a sharp eye and check things twice.