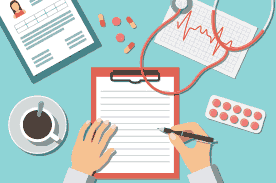 Whether you're looking to start your career path of helping others or you're looking for a change from your current profession, becoming a healthcare professional may seem like a daunting task. Fortunately, you have options regarding your career path within the industry and how you choose to break into that profession. Online learning allows you the flexibility to learn on your own time and at your own pace, and is often a less-expensive alternative to traditional colleges. Here are a few healthcare careers you can pursue with online training:
Medical Transcriptionist. Medical transcriptionists listen to physicians' voice recordings and convert them into written reports, interpret medical terminology and abbreviations in patients' medical histories, and work with speech recognition technology to review or edit medical documents. Most medical transcriptionists work for hospitals, physicians' offices, and third-party transcription service companies - although working as a freelance medical transcriptionist is also an option.
Psychologist. While there are varying degrees of education you can pursue while working towards becoming a psychologist, most programs cover topics like psychology and human behavior, elements of personality, and a study of the individual as they relate to society. Earning a career diploma in psychology is a great way to gain the foundational skills relevant to this career path, and can be completed in as little as six months with online training.
Pharmacy Assistant. Pharmacy assistants - especially those in the retail setting - work with pharmacists to order inventory and arrange merchandise, and should be knowledgeable regarding common ailments, popular treatments, and the operations within a retail setting. Becoming a pharmacy assistant is another career path in which you can complete online training in as little as six months, so if you are looking for a healthcare profession that doesn't require years of training, this might just be the career path you've been looking for.
While the careers listed as are common professions within the healthcare industry, they are by no means the only ones! Head here to see a complete list of online healthcare programs - and stay tuned to the Student Life Blog, as we will be going into more detail regarding each of these professions in the near future!