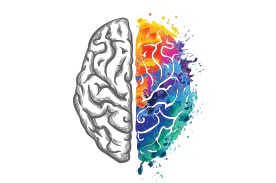 If you have a talent for design and are interested in creating art, but don't want to sketch or paint or wait for your work to gain critical recognition in the art world, have you thought about a career as a Computer Graphic Artist? Graphic artists combine technological savvy with art to create compelling designs and graphics. It's the perfect career path for someone who wants to be creative, yet loves technology and programs like Illustrator or Photoshop! It's also a career with a lot of options, meaning you'll never be stuck in one place if you want to have a little variety in your work. Read some of the information below to help you decide if becoming a Computer Graphic Artist is the job for you!
What does a Computer Graphic Artist do?
Well, that can really depend on what kind of company you work for, but generally graphic designers create visual concepts, using computer software or by hand, to communicate ideas that inspire, inform, and captivate consumers. They develop the overall layout and production design for various applications such as for advertisements, brochures, magazines, and corporate reports. You may also work creating a visual brand for the company you work, ensuring every image created lives up to that brand and becomes familiar to consumers. A Graphic Artist is an important part of a marketing or brand team at a company.
What does a Computer Graphic Artist do all day?
Again, this can really depend on what type of company you work for, but most duties are the same across the board. Typically, Graphic Artists and Designers:
Meet with clients or the art director to determine the scope of a project
Use digital illustration, photo-editing software, and layout software to create designs
Create visual elements such as logos, original images, and illustrations that help deliver a desired message
Design layouts and select colors, images, and typefaces to use
Present design concepts to clients or art directors
Incorporate changes recommended by clients or art directors into final designs
Review designs for errors before printing or publishing them
You can also take part in brainstorming meetings with other designers, executives, and marketing staff. Though there is routine in your work, you also create new designs on a regular basis.
Where can I work?
There are so many different options, it'd be difficult to list them all. But, in 2017 where most companies have a digital presence, whether on Facebook or other social media platforms or the company maintains an up-to-date website, you can find work in almost any sector. Many Graphic Artists work in marketing departments or for advertising companies. You may also find work designing packaging for established brands. A Graphic Artist also has the freedom to freelance if they choose to and can set up a decently lucrative business designing websites and graphics for startups, small businesses, or non-profits. It's all up to you!
A career in graphic arts and design can offer creativity, autonomy, and the satisfaction of knowing your designs are making a difference for your company and influencing consumers. If this sounds like something that would be a perfect fit for you, consider checking out an online graphic arts training program to help you take the first steps!
Source
Graphic Designers | Bureau of Labor Statistics