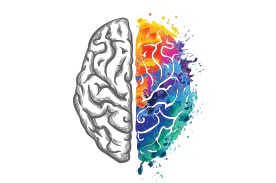 When we talk about creativity, or creative people, we assume a few things. First, that creativity is natural and innate, something we're born with. Second, that it exclusively involves artistic expression in whatever media---digital, visual, written. And third, we assume that creative people must be quirky and rebellious and "free spirited." There's some truth in these assumptions, but fully believing them may cause you to lose out on a fulfilling opportunity; if you find you don't fit into the definition of a creative person, you may avoid certain careers or tasks because "you're not creative enough." But a research study in 1968 found that we're all born with the ability to be creative but "non-creative behavior is learned." Over time, you lose the ability to "think out of the box" because you're taught not to be comfortable doing so. The good news is that this means that we all can be creative, whether at work or at home, and that you don't have to avoid "creative" opportunities and careers!
We'll be spotlighting some creative careers for people who are or who want to be creative, starting with one of my favorites, Floral Design!
Florists design and arrange a variety of flowers for events and special occasions, as well as taking care of potted plants and designing home plant displays. A Floral Design career can be perfect for those who want the chance to be creative but still enjoy structure in their work day. Studying and being an expert in flowers and plants can also appeal to those who have an interest in things like biology or the sciences.
Floral designers are not only expected to use their sense of artistry to choose and arrange the perfect bouquets for special occasions, but to also know the properties and proper care for each flower and plant. In this career, whether you work for yourself or for a shop, banquet hall, or hotel, you'll be expected to advise your clients on the best way to preserve their arrangements as well as be familiar with things like the color wheel and which flowers go best together.
If you do work in an established shop, which 49% of florists do, your basic duties will include:
Growing flowers or ordering them from wholesalers, to ensure an adequate supply to meet customers' needs
Determining the type of arrangement desired, the occasion, and the date, time, and location for delivery
Recommending flowers and greenery for each arrangement in accordance with the customer's budget
Designing floral displays that evoke a particular sentiment or style
Answering telephones, take orders, and wrap arrangements
You don't need to have the talent of Picasso or be quirky to be in a creative field. If you enjoy artistic projects and have strong organizational skills, floral design may be your dream job. However, if flowers and plants aren't your thing, no worries! We'll be sharing some great information about other creative fields for the next few weeks. Make sure to check back to find out about interior design! And remember, you don't have to be a creative genius to find a creative career that makes you happy.