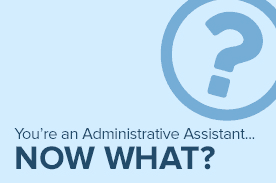 So, you've worked hard and earned your Administrative Assistant diploma. Congratulations! You took everything you learned and put that training into practice working in an entry-level administrative position. But what happens after you become an Administrative Assistant? What's next for your career? More than you'd think! According to a survey of executives, an administrative role has more of a career path than it did five years ago. Getting a job as an administrative assistant at almost any company can be a foot in the door to career advancement. Check out some of the options you have moving forward!
Executive Assistant. This isn't too far off from your original position. If you're looking for more responsibility and to work directly with executives, but don't want too much of a change, becoming an Executive Assistant can be the next step in your career. As an executive assistant, you'll take on more tasks. Along with your usual daily clerical duties, you'd also be responsible for managing the daily schedule and appointments for one or more high-level professionals in the company. As part of this position, you may over time be given a supervisory role with other staff in the office.
Office Manager. Depending on the size of the office you work in, as an administrative assistant you are generally in the center of the office, figuratively and sometimes literally, too. You're the main hub of information for many on staff and you work with almost everyone in the office. Considering this, a career move to Office Manager can be a logical next step on your career path. As an office manager, you'd be responsible for overseeing administrative staff and coordinating office procedures, budgets, and records.
Human Resources. Again, as a central part of the office dynamics, an administrative assistant learns how different departments work together and how to manage others. Common advancement opportunities for administrative assistants are found in HR. Unlike the other two options, this career move will take more planning and, often, more training. If you think you may be interested in advancing to an HR role, put together a plan and if the company you work for is open to it, ask to mentor with someone in HR to learn what they do day-to-day. There are different concentrations and positions within HR, as well, so get a good idea of where your interests lie. Do you prefer hiring and staffing? Or are you someone who is interested in the benefits side of HR?
Starting as an Administrative Assistant is the first step on a long career path. No matter how you hope to advance from your current position, keep in mind that you should still be dedicated to your day-to-day task and responsibilities. You may have the perfect career plan mapped out, but bosses also appreciate dedicated, responsible, employees and that can help you advance as much, if not more than, careful planning.