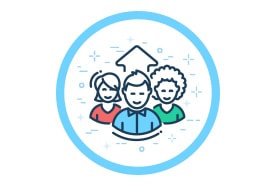 We often consider teachers to be the most important adult figure in a classroom. They lead lessons and discussions, as well as create lesson plans to ensure the students learn what they should for their grade and age level. However, many teachers couldn't be the successful educators they are without the help and support of Teacher Aides. Teacher Aides make a huge impact on a classroom and a child's education. Check out of few of the reasons why Teacher Aides are so important!
Teacher Aides play a key role in supporting the teacher. While the teacher may do the "heavy lifting" with lesson plans and lectures, the Teacher Aide will supplement that material and even plan or run lessons his or herself. Teacher Aides are also integral to supporting individual learning and assist the students who may need more personal attention to grasp the material. Without the Teacher Aide, many students wouldn't learn to ask questions, take risks, and take "ownership of their learning."
Teacher Aides have the opportunity to intervene, positively, when there's a student issue. Because a Teacher Aide works one-on-one with students, he or she is able to learn more about them and provide help in and out of the classroom. Often, children may be hesitant to express problems in understanding or even problems at home with a teacher they don't really know well. A Teacher Aide, whom the child may become close with, has the ability to be a "safe" person who can make a difference in their lives and education. Educationally, if Teacher Aides deliver interventions to small groups, evidence shows that they have the most positive effective over a teacher intervening with the full class. This can lead to a few months' worth of academic progress over the year. Additionally, a Teacher Aide is able to be a positive role model for students, helping them to share their triumphs and problems with others.
Teacher Aides offer support to teachers. This doesn't mean doing the smaller jobs and administrative tasks that a teacher may not want to bother with, such as filling out a grade book. The support a Teacher Aide offers to the teacher will benefit the entire classroom. By supplementing the teacher's lesson plans and keeping an eye on students in order to make sure everyone understands the material, a Teacher Aide makes for a less stressed, more effective teacher and a happier classroom.
If you've wanted to become a Teacher Aide, but weren't sure you'd make a real impact with your career, think again! As a Teacher Aide, you'll be a figure of academic and emotional support to the children in your class and the teachers in your school!
Source
How teaching assistant can make a real difference in the classroom | The Guardian