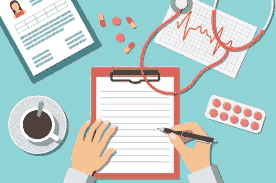 Careers in healthcare are some of the most stable positions available. Job growth in the field is expected to be higher than in other industries over the next ten years. But what if you want to help others and work in medicine, but don't want to spend years in university? The good news is that you don't have to go to medical school to become a doctor or nurse. There are many entry-level positions in healthcare that don't require a decade or more of education and training. Here are a few of the most common entry-level positions if you're considering a career in healthcare!
Patient Services Representative. This entry-level position is similar to customer service jobs in other industries. You are tasked with addressing any issues or concerns a patient may have, such as billing, check in procedures, or filling out necessary paperwork. As a patient services representative, you'd be the go-between for staff (whether at a hospital or in a doctor's office) and their patients. Generally, the education required to get this position is less rigorous than many other medical positions. Employers look for a high school diploma and, depending on where you work, may require some college or certification.
Certified Nursing Assistant. Occasionally referred to as "orderlies," a Certified Nursing Assistant (CNA) does exactly that: assist the nurses on staff at a hospital or, more often, a nursing home or hospice facility. CNAs assist their patients in daily tasks such as dressing, bathing, and dispensing medications. They will also update patient information, as needed. Most CNAs need at least a high school diploma and certification or completion of an approved education program.
Medical Administrative Assistant. This position is also referred to as "medical secretary." The duties of a medical administrative assistant can range from answering phones and setting up appointments for patients to keeping files and information organized. They are generally the first people you see when you check in to your doctor's office. Most employers require a high school diploma and some experience in the field to be considered for this position. However, many also prefer their Medical Administrative Assistant have certification or some educational training, such as ICS' Medical Administrative Assistant career program.
Dental Assistant. Another entry-level position, becoming a dental assistant can be a change of pace from a traditional healthcare career. As a dental assistant, you'd be expected to assist the dental hygienist and dentist with xrays, recordkeeping, and scheduling appointments. Depending on the office you work for, you may also be tasked with keeping the office orderly and pleasant for patients. Most dentists prefer to hire dental assistants with some formal education, such as a career program, though this can vary from province to province.
Home Health Aide. Like CNAs, home health aides work closely with patients and assist with regular tasks. Unlike many other entry-level healthcare positions, a home health aide will typically work in their patient's home, checking in regularly. They will give medication, check vital signs, and drive patients to medical appointments or grocery shopping. Home Health Aides usually require the least amount of formal training, as a high school diploma and basic certification, as well as background checks, are often all that is needed to start in this position. Much of your training as a home health aide would take place on the job.
You don't have to become a fully licensed doctor to help your community. If you've ever been interested in the healthcare field but were discouraged by the amount of education or training you'd need to get started, these entry-level positions could be the best way to get your foot in the door!
Sources
11 Entry-Level Healthcare Jobs Employers Want to Fill NOW | Rasmussen
Dental Assistants | Bureau of Labor Statistics