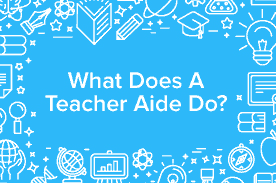 Are you certain that you want to pursue a career in education, but not quite sure that becoming a teacher is right for you? You've probably researched different options, from becoming a school librarian to working in a daycare centre with younger children. You may have also considered studying to become a Teacher Aide, but were unsure of what a Teacher Aide actually does. Here, we'll go over some of the basic duties and responsibilities of a Teacher Aide, as well as the steps to take to become one!
What Does a Teacher Aide Do?
Teacher Aides will almost always work under the direct supervision of a teacher to give students additional attention and instruction. Often, the teacher will present a lesson and a Teacher Aide will work with small groups of students to reinforce the lesson. A Teacher Aide will assist the students as they try to master the day's lessons.
Some Teacher Aides work only with special education students, helping them understand the material and will adapt the lesson material to their learning style. They may work with students with more severe learning disabilities in separate classrooms in order to better work the students' needs. Often, these Teacher Aides must pursue further education to work with special needs students.
Some day-to-day responsibilities can also include:
Enforcing school and class rules to help teach students appropriate behaviour.
Help teachers with recordkeeping, such as noting attendance and calculating student grades.
Help teachers prepare for new lessons by setting up equipment or getting lesson materials ready.
Supervise students in class, between classes, during lunch, and during downtime such as recess.
What must I do to become a Teacher Aide?
Generally, a grade 12 education and experience or training in working with young people is stated as minimum requirements in some schools. However, college degrees and career programs can make an applicant more desirable and prepared for the work they will be doing. As with any career working with others, young or old, good interpersonal and communication skills are essential. Besides education and training, you will also be required to pass a criminal reference check.
Depending on your professional goals and your educational goals, becoming a Teacher Aide may be the right fit for you! If this sounds like a career you'd be interested in pursuing, read more information on ICS Canada's online Teacher Aide course to get started.