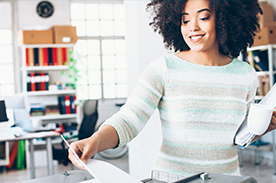 If you've been looking to transition from a physically demanding career to working in an office environment, you may find yourself frustrated if you start submitting your resume without having a plan or strategy in place. Many entry-level office and clerical positions demand a certain amount of training or a minimum amount of experience in the field. If you're going to dedicate time to training or education to better your chances of changing your career, it's best to start with something that can help you find a position in a variety of fields. One beneficial entry level career path is found in secretarial or administrative positions. So, why should you become an administrative assistant?
You'll learn skills that you can use in almost any field.
An administrative assistant will do much more than take down meeting notes and schedule appointments for their boss. You will be responsible for a variety of tasks such as answering telephones, arranging meetings, preparing memos, emails, and letters. You may even be responsible for maintaining accurate and up to date databases or handling the bookkeeping for the office. With these and other duties on your plate, you'll gain valuable experience in time and stress management, organization, and leadership that can make you an appealing candidate for hiring managers.
Administrative assistants work in many sectors of business and industry.
Besides acquiring some in-demand skills on the job, as a professional in this field you'll have the opportunity to apply to and work for a wide variety of companies. Skilled administrative assistants work in small and large businesses, medical offices, hospitals, or law offices. Though some additional, specialized training may be required for certain positions, overall you can choose the environment you want to work in. You're also able to apply to more open positions, upping your chances of being hired.
Gain valuable experience you can use to pursue your goals.
Even if becoming an administrative assistant isn't your dream career, you can take the experience and knowledge you gain and apply it to your future. Besides gaining customer service and organizational experience, you can also polish up your writing and computer skills, as well as your knowledge of Microsoft Office applications. Being strong in written and verbal communication is often a requirement for many upper level positions or careers. And an ability to skillfully command an excel spreadsheet is desirable in almost any industry.
If you're looking to change your career, but aren't sure where to start, becoming an administrative assistant can teach you many of the skills you'll need for whatever you want to pursue. A comprehensive online administrative assistant training program can help you learn what you need to get started in an office atmosphere, as well as giving you the basic skills that can make your resume stand out when you're applying to open positions.