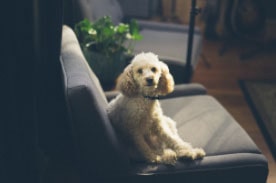 Is Pet Grooming For You?
Finding your match with a pet is easy. What's not to love about an adorable, loyal, affectionate dog or cat? The connection can be pretty instantaneous, but finding your career match can be a bit trickier.
When we think of careers with animals, we think of zoologists, veterinarians, and other medically-focused professions. These types of roles are a calling, as they require long hours, in-depth schooling, possible relocation, a good deal of sacrifice, and even heartbreak. For a lot of animal lovers, deciding not to work in veterinary medicine feels like a door closing on the dream of being around pets all the time. Enter: The pet grooming profession. Becoming a pet groomer requires a smaller time commitment towards education, lots of flexibility, and can pay out as much as you put into it. Sound like something that could work for you?
See if you fit with the qualities below to find your match:
You want to make your own schedule
Whether you're looking for a full-time career or a rewarding activity on the side, the choice is yours. Much like being a barber or hairstylist, a pet groomer can head into the shop at hours that work around their schedule. This flexibility can be a great option for parents, students, morning people, night owls, well...just about anyone! Keep in mind though, making your own schedule might create a temptation to clock out early or not schedule enough appointments.
Opening your own business has always been high on your list
Being your own boss adds even more flexibility to your lifestyle. If you love the independence of only being accountable to yourself and your clients, opening a pet grooming business is a great choice. Start-up costs for equipment are generally on the lower side compared to most businesses, and you can even run a business out of your own home.
You're creative and like working with your hands
Sure, there are common pet hairstyles, but more and more people are looking for wild cuts. Mohawks, bright colors, and other fun and unusual designs are becoming more requested as millennials are taking over the modern family. Designing your own space however your heart desires can bring out your artistic side. Adding decor like a classic barbershop or a relaxing spa can personalize your trade and add marketability to bring in future clients. Photo shoots after a fresh grooming can add a couple extra bucks to your bottom line. The creative options are endless!
You love animals, but want to avoid the sadder stuff
Let's face it, working with animals in a veterinary setting can be challenging. A lot of the time pets make a visit to the office, it's because they're sick or injured. Pet grooming bypasses a lot of the stuff that can leave you with a heavy heart, but with all the fuzzy interactions that make you an animal lover in the first place. And the best part? Pet groomers can help animals. Volunteering your time sprucing up adoptable pets at animal shelters and rescues not only gives dogs and cats a shot at finding a furever home, it also treats them to a little pampering! And who doesn't feel great after some old-fashioned do-gooding?
Desk jobs just aren't for you
Is sitting in an office chair and staring at a computer screen not your style? There's never a dull moment as a pet groomer. You'll be on your feet all day, interacting and corralling your pawesome clients. From shampooing and blow drying to clipping and trimming, be ready for lots of physical activity and excitement, and watch the hours disappear. Time flies when you're having fun!
Think becoming a pet groomer is your career match? Start training today, and you could take the next step toward a new career while studying at your own pace. Call 1-800-275-2400 to learn more from one of our admissions experts, and find details about the ICS Canada Pet Grooming Program on our website.