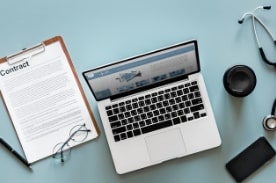 Qualities of a Successful Medical Administrative Assistant
The medical field isn't all about doctors and nurses. There are plenty of roles that are less hands-on but are nurturing and rewarding all the same. Medical administrative assistants are at the forefront of many medical practices. Being that they are often the first and last person the patient encounters during their visit, they play an important part in making a patient feel comfortable and welcomed while also handling medical records and insurance information.
There are key traits that all medical administrative assistants have to be successful on the job, however. Find out if this career is right for you by reviewing the top five defining characteristics of a medical administrative assistant.
1. Organized and Detail-Oriented
There are lots of moving parts on a daily basis working in this role, and being able to juggle tasks to keep everything running properly means staying organized. Getting things lost in the shuffle can trigger serious problems for patients that need to make appointments or coordinate necessary prescriptions.
2. Empathetic
The healthcare field is a part of everyone's life at some time or another. Many patients that a medical administrative assistant will service are experiencing difficult times in their lives, and understanding the patient's perspective can make all the difference during their visit. Great customer-service skills go hand-in-hand with being empathetic, since listening, caring, and helping are all parts of the job.
3. Professional
Medical administrative assistants need to be aware at all times of what they say and do on and off the job. Much of the material they work with on a daily basis is highly confidential, and it's important for people working in this role to understand the gravity of having access to patients' private information. Working in a role that involves a lot of communicating between different practices, labs, hospitals, and patients requires self-confidence and polish to showcase their professionalism and to be an example for the doctor's office they represent.
4. Communicative and Friendly
If there's one thing a medical administrative assistant can't avoid, it's communication. From answering phones and receiving patients at the reception desk, to taking orders from doctors and coordinating with pharmacies, insurance companies, and other health facilities, conversations are being had all throughout the day. Being polite is essential and courtesy can go a long way throughout all these interactions to ensure the best and fairest results for everyone.
5. Adaptable
There is no predicting what curveballs will fly your way in your usual work day. Medical administrative assistants need to be ready for anything. Patients can arrive late, offices visits can run long, appointments can be cancelled, and a medical administrative assistant needs to be at-the-ready to rearrange the the day's events. In addition, there are continuous changes to healthcare procedures, insurance practices, and office technologies — all of which can affect the work of a medical administrative assistant. It's important to keep learning on the job, and always be ready for change.
Do you think you have what it takes to be a medical administrative assistant? Start training today, and you could take the next step toward a new career while studying at your own pace. Call 1-800-275-2400 to learn more from one of our admissions experts, and find details about the ICS Canada Medical Administrative Assistant Program on our website.