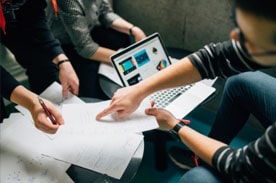 You are enrolled in online school because you know you can manage your life better, and be even happier, when you are in charge of your education. You are proud of your independence and hate to bother others for help, making the self-paced nature of ICS a great fit for you.
However, there are times when you struggle to maintain the passion for your program that you had when you enrolled. It's not because you don't love it anymore, it's just that some days it's hard to find the energy to study, do your assignments, and take your exams. Aside from having the energy, sometimes the material you're learning is just difficult. You get confused and then discouraged.
This is why having study supporters can make all the difference! Having people who care about you, who know your strengths and weaknesses, can keep you on task and help put that fire in your belly to do better! Here's how to create and use a network of people who want to help you do well.
1. Keep it close
Reach out to your family and friends! It's that simple. Weather you're in a pinch or honestly don't feel comfortable going to anyone else, these are the people you know will be there for you.
The hard part is that they are the ones you want to impress the most. You think that asking them for help will devalue your accomplishment because you didn't do it on your own. But think about how good it feels when people come to you for advice. Most major accomplishments in history are a team effort!
The best way to reach out to them is to just be honest. Your friends and family will probably feel honored that you came to them. Let them know that you value their wisdom and knowledge and know it can help you to grow and get better. They will more than likely be happy to help.
2. Talk it out with someone who gets it
You have a whole network of students at ICS who are going through the same struggles, challenges, and accomplishments that you are! Your fellow students are your best bet at finding someone who can offer the most relevant advice or support for your exact school-related situation.
As another positive, you might make a new friend! Reaching out for help, motivation or advice is a great conversation gateway into getting to know someone. Login to the ICS Student and Alumni Facebook Group to find some new friends!
3. Talk to the pros
If you have questions about your program, you are not alone! If there is something on your mind that needs expert handling, ICS is here and has your back with knowledgeable instructors ready to help you with questions about your studies.
Call Student Services at 1-888-427-1000 or email them through your Student Portal. They are the experts in everything ICS-related and will be able to talk you through whatever situation you are currently facing.
4. Find your #CareerCrush
If what you really need is someone to help you map out life after school, find a coworker or professional mentor whom you really admire. This should be someone who is already succeeding at their job, ideally someone in the industry where you want to work.
Most professionals in senior level positions have experience mentoring more junior employees so they know exactly how to motivate you, push you, and advise you. Use LinkedIn to find these people and send them a direct message to connect if you don't already have someone in mind.
At ICS, we want to see every single student succeed and are here to support you in doing so. Get excited to tackle challenges and celebrate success by finding people in your personal life, and within the ICS family, who are just as happy to go through it all with you.