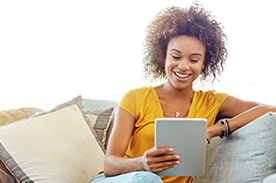 Get a fresh start this back to school season
As an adult, back to school season doesn't seem to come with the same sense of excitement as it did when you were younger. If you're not a parent or teacher, the season doesn't mean much to you. If you do have children, it can feel exhausting. There's so much to get done to make sure your kids are ready for the new school year that there's not much time leftover to consider what it means for you. But back to school season can be your time, too. Here's why it matters and how you can use the energy and excitement of the season to start working toward your goals.
Why does going back to school matter
You might feel that, at your age, it's too late to go back to school. Whether it's to finish your high school diploma or pursue training to start a new career, after a certain age, it can feel awkward and uncomfortable to step back into a classroom. And, even if you don't feel weird about jumping into a classroom with people younger than you, finding the time and energy to attend classes on campus when you work a full-time job and take care of your family is stressful.
But going back to school can be vital to the goals you want to reach. Maybe you want to get promoted at your current company, but just don't have the education they require to move up, even if you have been a great employee for years. Or maybe you're ready to move on and want to find a job that you love, but don't have the basic training many companies in the industry require to get your foot in the door. Going back to school to add new skills to your resume can make a positive impact on the job opportunities available to you.
Besides boosting your resume or giving you the credential you need to make a career move, continuing your education is also great for personal growth. Want to pick up a new skill? Start a hobby you've never tried before? Going back to school can help you do that. It can even help you keep your brain sharp as you get older!
Let the back to school excitement motivate you
So you want to further your education. That's great! There's no better time to get going than during back to school season. While you may not be a traditional student, starting an online career course or high school diploma when your kids or friends do can give you a sense of belonging. You're part of the group that's buying school supplies and diving into new classes and experiences. Even better, you can make plans to study with your friends or children! You might be learning completely different things, but scheduling time to get it done can be easier when you have someone going through it with you.
You can also try a few of the following tips to use the seasonal motivation to be the best student you can be.
Plan out your study time. You know you want to go back to school, so make an effort to get started around the same time traditional schools in your area start classes. It can also help if you have a family member or child in a traditional school. You can make plans to study together!

Think of back to school season as the beginning of a new year. Traditional students often look at the first day back to school as the beginning of a brand new year. It's similar to how things feel on New Year's Day, as if you've got a fresh start to reach your goals.

Take advantage of back to school sales for your school supplies. Back to school also comes with lots of great sales, so you can stock up on notebooks and folders to keep yourself organized when you start your program.
Go back to school your way
You have goals you want to accomplish and there's no better time than now to get started. With back to school season acting as a fresh new start, you can take the next step toward finishing high school or training for a new career. With ICS Canada's online, flexible courses you can complete classes around your schedule, while still being able to work and help your kids with their homework, too. To find the right program for you, speak with an Admissions Specialist today at 1.888.427.2400!