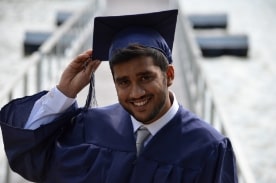 Should you go back to earn your high school diploma?
You may not have had a chance to finish your high school diploma when you were younger. Now, you're debating whether you should go back and finish your studies or keep on doing what you have done for the last few years. But there are several reasons why earning your high school diploma as an adult is worth it. Here are the benefits of finishing your high school diploma, no matter your age.
A high school diploma can increase your earning potential.
What you learn has an impact on how much you can potentially earn at work. While a diploma alone doesn't guarantee anything, statistics have shown that someone with a high school diploma earns 36.9% more than someone without one. With a diploma on your resume or application, you're eligible for more job opportunities in different industries, so it makes sense that you'd be likely to increase your pay.
You can apply for the promotion you've been working toward.
Experience and good work performance are part of what you need to qualify for an open promotion at your current workplace, but you also often need to meet certain education requirements. No matter how good your work record, without your high school diploma, it's unlikely that your supervisor can give you the job. By earning your diploma, no matter how long it's been since you were last in school, you can not only open more opportunities for yourself, but you can show your current workplace that you really are serious about moving up.
You can take your education even further.
Maybe your goals don't end with earning your high school diploma or a promotion at work. You want to take your education even further and pursue a career diploma or a college degree. Completing your high school diploma or a GED is almost always a requirement when applying to a career or college program. It's the first step toward the dream job you've been considering for years.
Earning your high school diploma can inspire your friends and family.
Life gets in the way for everyone and things happen, so there's no reason to feel ashamed that you're returning to finish your diploma later in life. In fact, your commitment to finishing can be motivation for the people in your life to work toward their goals, too! And, bonus, having the support of the people you care about as you fit in studying, taking exams, and completing assignments to your busy schedule can make a big difference.
Take the next step with ICS Canada.
Whether you're looking to finish your high school diploma for you or you want to pursue a new career or promotion, ICS Canada's flexible, online high school program can help you take the next step toward reaching your goals. Not sure how self-paced high school works? Speak with an Admissions Specialist today at 1.888.427.2400!