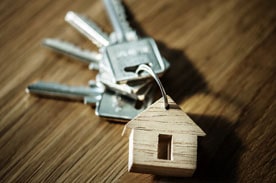 You're detail-oriented, persistent, and pride yourself on being a problem solver. You like knowing the ins and outs of how things work and you're happiest when your job requires you to roll up your sleeves and get hands on. Finding a career that allows you to make use of your skills can be tough. Before you get discouraged searching for the perfect job, have you considered becoming a locksmith and home security technician? Studying with ICS Canada online could be the key to taking the first steps toward a new career you love.
Here's what you need to know about ICS Canada's updated online Locksmith and Home Security Technician Career Diploma.
Locksmiths do more than make keys and replace door locks.
A modern day locksmith is responsible for more than making copies of keys and helping out when you lock your keys inside your car or home. The profession has grown with and adapted to updated technology. As a locksmith and home security technician, you'll install, service, and replace locks and security systems in homes, businesses, cars, safes, and vaults.
Besides the standard tools of the trade, you'll also find yourself working often with technology. ICS Canada's Locksmithing and Home Security Career Program can help you prepare to take the first steps toward a rewarding, entry-level job with courses such as
Fundamentals of Home Security. This course provides an overview of the role of the home security technician. Start by learning about how a home security technician works to provide modern security solutions for homes and businesses. You'll also cover some of the fundamentals of electricity, which can be vital to a career as a home security tech.
Locks and Key Mastering. In this course, explore how locks are designed for different home and security needs. You'll understand how standard and specialty locks operate, as well as how they're bypassed when the correct key is missing. You'll discover how to pick or rake open common types of locks and rekey locks and develop an understanding of how safes and vaults operate.
With industry-standard learning aids included, such as padlocks, door locks, and a pinning kit, you'll be able to confidently practice your skills from home, on your schedule.
Why become a Locksmith and Home Security professional?
Besides beginning a career that you enjoy, professional locksmiths can make an average annual salary of about $44,000 which can grow as you gain more experience in the field. You can even start your own business if you're more interested in being the boss. With the advances in technology, ICS Canada's updated Locksmithing and Home Security Technician Career Diploma can help you prepare to take the first steps toward a rewarding career, in-demand career.
Now is a great time to get started! To find out more about how ICS Canada can help you gain skills and knowledge online to step toward becoming a locksmith and home security professional, call our Admissions team at 1.888.427.2400.