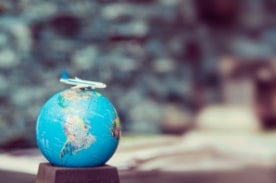 Find your dream job
Are you searching for a career that makes you wake up excited to go into work each day? Do you have a passion for travel, learning about the world around you, and helping others make memories that last a lifetime? Then becoming a travel agent may be the career move for you. Here's why working in the travel industry could be a good fit and how you can get started.
Why work in travel and tourism
It may seem that, in this day and age, people can act as their own travel agents. After all, everyone has used a website like Expedia, Travelocity, or Kayak before to book a flight or hotel room. But while there are discounts and destination information widely available on the Internet, there are many things those websites don't necessarily have access to. From personal recommendations, tour packages, and industry-only offers, a travel agent can be the key to planning a perfect trip.
Think of it like this: Most people are capable of planning their own weddings, but hiring a wedding or event planner ensures that everything goes off without a hitch so you can be confident about enjoying the big day. The same idea works for travel agents. A person can plan their own trip, but there are things they may not know how to prepare for and travel options they didn't know existed. Having the help of a skilled and knowledgeable agent makes the planning process smoother and leaves less room for pre-vacation jitters.
As a travel agent, you're a crucial part of creating family memories and have the opportunity to use your people skills to understand exactly what your client is looking for. Besides building vacation memories that last a lifetime for the clients you help, there are several benefits to working in the travel and tourism industry like
Working any time, anywhere. If you have a solid Internet connection and a reliable computer, you can work from home as a travel agent. While starting out, you may find yourself working in an agency that requires you to come into the office, but many agents are able to transition to working out of their home or on the go!
Learning something new every day. Each day can bring something different, whether it's getting familiar with new packages or discounts or meeting new clients.
Starting a career you're excited about. If you love traveling and learning more about the world, you'll find you're excited to go into work as a travel agent each day. Your job won't feel like work because you're doing something you're interested in.
How to become a travel agent
Travel agents provide detailed information on travel options, tour packages, resorts, destinations, and more. Other typical duties for a travel agent can include
Calculating total travel expenses for clients.
Finding fare and schedule information.
Selling destinations and packages to clients.
Covering any necessary travel paperwork, like visas.
Informing clients of any vaccines they might need
With such a wide range of duties, becoming a travel agent requires training and knowledge, as well as sharpening your soft skills. An understanding of world geography, as well as the key tourist destinations across the globe, is an important part of being successful in the industry. Further, being able to confidently use Computerized Reservation Systems (CRS) like Apollo or Sabre to book travel and accommodations for clients is a must. ICS Canada's online Travel and Tourism program can help you prepare to pair your passion for adventure and exploration with industry skills, around your schedule.
You can study on the go and take the next steps toward finding a career that you love. Enroll today or speak with an Admissions Specialist at 1.888.427.2400 to see why online education could be the perfect fit for your life.