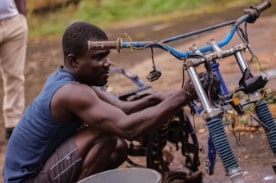 How learning to DIY can save money.
When your car has an issue, you bring it to your mechanic. If your washing machine sounds a bit off, you call in an appliance repair-person. They do great work and you appreciate them, but at the same time, they can be expensive. If you knew how to take care of a few small problems yourself, you'd save a bit of money. Guess what? You can learn to do just that! While there are some projects and repairs that take a little more expertise than the average do-it-yourselfer has, there are several that you can take into your own hands, saving time and money. If you've been looking to take a dive into the do-it-yourself life, here's how you can prepare to build the skills and knowledge that can come in handy down the line.
Is your refrigerator running?
If your answer is "yes," you might want to go catch it! Or, in reality, you might be worried that a constantly running fridge is sprinting toward a costly repair bill and a skyrocketing electric bill at the end of the month. Even further, you want to make sure that it doesn't run itself ragged and stop working altogether, spoiling the groceries you have stored there.
Maybe you have a washer/dryer that you've had for a year or so that works just fine – most of the time – but every now and then refuses to share the load. Your clothes for work the next day come out of a dryer cycle feeling somehow damper than when they went in.
Whatever small appliance problems come up in your home cause stress over the time and money you have to spend to fix them. With the average homeowner estimating that they spend around $170 per each repair and most repairpersons charging an hourly fee of $100-200, that worry makes sense. Learning how to do it yourself, however, can be an investment that pays for itself over time. You don't even have to take time away from work or your busy schedule to do it. ICS Canada's online Appliance Repair course, you can build new skills and knowledge that can help you diagnose and fix a variety of common issues. From understanding how electricity and natural gas can affect your repair strategy to troubleshooting ovens, microwaves, dishwashers, and more, you can grow your DIY confidence around your normal everyday life.
Automotive repair costs can exhaust your bank account.
You rely on your vehicle running well. It's how you get to work, the grocery store, and more. When a problem comes up or that "check engine" light flashes, your brain might go into panic mode, trying to plan out how you'll get everything done while it's in the shop. Rearranging your schedule around your mechanic and trying to decide if you can afford the repair can be tiring. But if you understand some automotive basics, you can determine whether or not you need to make that appointment, and even take care of small issues yourself.
With ICS Canada's Automotive Repair classes, as well as the online Motorcycle Repair course, you can prepare to better understand how your vehicle runs and how to diagnose and fix issues that come up. Even better, you can learn how to properly maintain your vehicle, cutting down on the number of repairs you'll actually have to do!
Learning to DIY doesn't have to be a solo project.
Maybe you find taking apart appliances and putting them back together better than before completely fascinating, but for whatever reason, the insides of a vehicle aren't really interesting to you. A friend or family member is, however, and has been considering learning more about automotive repair. Why not discover more about your separate interests together? Besides having a study buddy to keep you on track, when you're done with your programs, you have a friend with whom you can exchange do-it-yourself skills when a repair problem comes up!
Do-it-yourself skills aren't limited to repairs.
These days, you can DIY almost anything. Whether you're looking for a hobby or you want to save money and time, picking up new skills is never a bad thing. From perfecting your landscaping skills to learning how to make your own clothes, ICS Canada can help you prepare to confidently take on new projects. Take the first step toward the DIY life with flexible, online courses. Not sure where to start? Talk to an Admissions Specialist today at 1.888.427.2400.