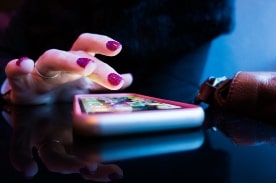 Reach your goals and find success with a little help.
You're busy with work and personal responsibilities, so furthering your education with online classes was an easy choice. They allow you to study and take exams whenever you have time in your busy schedule, wherever you are. It's convenient, affordable, and you can take the first step toward building your skills and knowledge to become career confident. But you've never done online school before and it's been awhile since you were in a classroom at all. You may be nervous that you won't be able to stay on track or that you won't do well on your exams. Don't worry, there's an app for that. Check out these 7 apps to help you reach your goals and find success!
Study! This app allows you to create study sessions with scheduled breaks. As an online student at ICS Canada, Study! can help you set times and goals for your study sessions to stay on track. It will send you notifications reminders about study breaks so you known when to take a minute to refresh your brain.
Quizlet. This super helpful study app allows you to create flashcard sets to help you study. You can check out flashcards from over 50 million other students on subjects you're studying, too!
OneNote. The OneNote app from Microsoft is a digital notebook where you can store notes, reminders, and to-do lists. You can organize your notes however works best for how YOU learn and create to-do lists to make sure you don't miss anything important for your goals.
CopyLeaks. Sometimes when writing a paper, you may accidentally use a quote or sentence from another writer without citing the source. That can lead to having your paper or assignment being marked for plagiarism even though you didn't mean to "copy" what someone else wrote. Be prepared with CopyLeaks, a cloud-based plagiarism checker that looks over your work and lets you know if something might be considered plagiarized before you submit your paper or project.
Unstuck. Unstuck isn't necessarily a study app, but it's something that can help you find solutions to get you back to your studies when you're feeling unmotivated, confused, or overwhelmed. You pick three cards to describe how you're feeling in the moment, and Unstuck will give you ways you can get out of…well, being stuck!
Wolfram. This is a great tool for research and finding answers to some tough questions. Wolfram uses data and algorithms to compile one of the largest databases for information on the Internet. Questions on subjects from biology to literature and history can be asked and answered quickly in this app.
Calm. When you're an online student, balancing everything you have on your plate, from family to work to just having a life, can make it tough to relax and just take a deep breath. Calm is an app that offers methods to help you take a minute for yourself.
Make the most of your education with ICS Canada.
Whether you're studying online to boost your resume with a certificate course or you're hoping to change your career entirely, there are valuable resources to help you stay on track and make the most of your education. With ICS Canada, you can work on reaching your goals, your way.