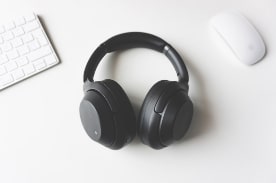 Becoming a medical transcriptionist often involves education, such as completion of a relevant career diploma or certificate program, as well as on-the-job training when you're hired. With the industry booming due to an aging population who is interested in preventative care, now's the perfect time to start a career in an entry-level healthcare role. If you're interested in helping doctors and other medical staff effectively record patient data, ensuring accuracy and clarity in their medical records, medical transcription could be the job for you. Here's how you can become one on your schedule, from home.
What qualifications do you need to be a medical transcriptionist?
Medical transcriptionists often pursue an education in the field after high school, which many employers prefer when considering job candidates. While there are some skills that can be taught during on-the-job training, coming into the role with some foundational knowledge of medical terminology, anatomy, and privacy in healthcare can help you prepare for success as a transcriptionist. Other classes that can help you build your confidence as a medical transcriptionist include
Professional Communications. Understanding how to properly communicate, both verbally and in writing, is crucial to any role. But, for medical transcriptionists whose role involves developed listening and communication skills, learning how to write a professional email, address business letters, and more can make a difference in their potential job prospects.

Pharmacology, Pathology, and Body Systems. Separate but interconnected courses, each class covers information that is essential to understanding and translating the recorded notes from doctors and other medical professionals. Knowing what they're talking about can help you accurately transcribe patient histories and more, which are vital to not only the patient's records but to how the patient may be billed.

Medical Transcription 1 and 2. Through these courses, you'll learn about the different tools you'll use in the field, proofreading and editing transcripts, and more.
How long does it take to become a medical transcriptionist?
You're interested in healthcare but you know you don't want to take years to become qualified to work in the field. You also want a job that is a bit more flexible than becoming a nurse, doctor, or lab technician. Becoming a transcriptionist has everything you're looking for, but before going all-in on this career, you want to make sure it won't take forever for you to get started.
With ICS Canada's flexible, online Medical Transcriptionist Career Diploma, you can prepare for the job you want in as little as 9 months. You set your pace and choose when and where to study, so it's up to you how long it takes.
Do you need to be certified to be a medical transcriptionist?
Many positions in the healthcare industry require specific licenses and certification, but as an entry-level clerical role in the field, medical transcriptionists don't need to pursue certification to work. Education and experience can often carry more weight, so while certification can look great on your resume, successfully completing a training course in medical transcription can help you stand out from other applicants.
What is the average salary for a medical transcriptionist?
As an entry-level medical transcriptionist, the average annual salary is $34,770 according to the Bureau of Labor Statistics. Salary and hourly pay for the job can vary based on where you live, where you work, and your experience. While most medical transcriptionists work full time, others work more flexible hours from home or are paid based on the volume of transcription they produce, similar to a freelancer.
Start on the path toward a healthcare career with ICS Canada.
ICS Canada's online, self-paced Medical Transcriptionist Diploma Program allows you to learn on your schedule, wherever you are. Get started working toward a rewarding entry-level career in healthcare today by speaking with an Admissions Specialist at 1-888-427-2400.