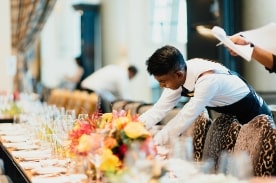 What career allows you to work with people and be a leader?
You know you want to start a career that allows you to work with people, from providing excellent customer service to being an engaging leader to employees you manage. You love working in a fast-paced field that offers new challenges each shift, and the feeling of satisfaction at the end of a productive day is one of your favorite things. But what job can check off everything on your dream-career requirements list? Becoming a hotel and restaurant manager may be the field for you. Here's what hotel/restaurant management is, the day-to-day responsibilities, and how to take the first steps toward building a career in the industry.
What does a hotel or restaurant manager do?
Whether working in a hotel, restaurant, or a business that does it all, managers have very similar duties. They strive to make sure that guests have the best experience possible. For hotel managers, that generally means inspecting guest rooms, monitoring staff and departmental performance, coordinating front-of-office staff, choosing and training new hires, and more. The end-goal is to make guests who are staying at your hotel have the most enjoyable experience away from home they can.
Restaurant managers also work to make sure customers feel well-fed and looked after. Managers in food services are responsible for the daily operation of the restaurant, including directing staff, creating schedules, managing budgets, hiring new employees, and more.
Both roles also take the time to address and resolve customer complaints, help out their staff during peak busy hours, and ensure that company standards are met by every employee.
What are the job requirements to become a hotel/restaurant manager?
Becoming a manager in the hotel and restaurant industries doesn't happen overnight. Generally, some experience in the field is necessary. Having a solid understanding of how restaurants or hotels operate, as well as the duties of each role you're managing, can make a positive impact on your staff. It also helps to demonstrate your skills to a potential employer.
Aside from previous work experience, these are the additional requirements that can help you prepare for becoming a manager of a hotel or restaurant.
For restaurant managers, employers may require
Some level of education in the field, such as a career training program. College degrees aren't necessarily required.

Certification. Though, again, not required to apply for the position, having an industry-specific certification can boost your resume and make you a more desirable hire. For food services, many restaurants have employees complete ServSafe certification.
For hotel managers, employers may require
Industry-focused education. Work experience alone won't necessarily prepare you for a leadership role in hospitality management, so pursuing education specific to the role can boost your resume and help you confidently tackle the job if hired.

Certification. While not a prerequisite for getting a job at a hotel, having certification in relevant skills can help you stand out when applying for a management position or promotion. Certificates in skills like Microsoft Office can be a good start.
What is the salary for the job?
The average pay for hotel and restaurant managers can vary based on several factors including the type of restaurant/hotel, the area you're working in, and your previous experience in the field. The median annual pay for a restaurant manager in 2018 was $54,240 while the average for a hotel manager was $53,390.
Working in larger hotels, or for chains can potentially pay more than a smaller local establishment.
Is hospitality right for me?
Working in hospitality, whether that's as a hotel manager or a restaurant manager, isn't for everybody. Besides an interest in developing your leadership skills and working closely with employees and customers, having strong communication skills, business skills, and problem-solving skills is a must. So is having a clear idea of what's expected of you in the role and how managing the business works. If you're interested in working in a customer-centric field, becoming a hotel or restaurant manager could be the first step toward finding your dream job. You can develop the skills and knowledge to help you prepare to excel in the field with ICS Canada's flexible, online Hotel and Restaurant Management Career Diploma. Find out more by speaking with an Admissions Specialist at 1-888-427-2400.