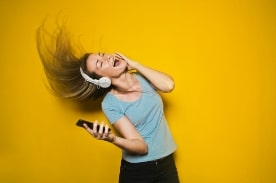 Music to help you get in the mood for studying.
Music is a big part of the human experience. Whether you only like one type of music or several different genres, you know that listening to certain songs can have a huge impact on your mood. When you're learning online, plugging in your favorite playlist seems like the perfect way to keep yourself awake and focused, but not all music is prime for study time. Here are some tunes that can help you get into the mood for a serious study session.
Get motivated for a big test or study session.
You know you have to log in and work on a class you have been hesitating to begin. Maybe it's a subject that you've never been great at and you're worried it will be a lot harder than you thought. Or, you know you've got to take an exam for a class but, despite hours of studying, it still feels like you aren't prepared and you're nervous to get started. What if you fail?
While those are legitimate concerns, taking a few minutes to work on boosting your confidence can make a positive impact on how well you do in a class or on an exam. One easy way to feel pumped up? Music!
Science backs that up. In a study from The Society for Personality and Social Psychology, researchers found that there's a certain type of music that is perfect for boosting your confidence before an interview, test, or anything you need a little pep in your step for. Most of these songs are heavy on the bass, with empowering or fun lyrics. Add these to your playlist to build up your confidence and positivity before a long study session or tough exam.
B.O.S.S. - Fifth Harmony
The Wire - HAIM
New Rules - Dua Lipa
Eye of the Tiger - Survivor
9 to 5 - Dolly Parton
Shape of You - Ed Sheeran
Shut Up and Dance - Walk the Moon
Are these songs just not your jam? Go through your favorite songs and pick out a few that are heavy on the bass, upbeat, and fun and make your own confidence-boosting playlist!
Stay focused while studying.
You may be tempted to have an entire study playlist dedicated to your favorite, most upbeat songs. But while a good beat and fun lyrics can help you boost confidence and get pumped up for a study session, when you're actually hitting the books, they can be distracting. Most researchers recommend avoiding any music at all when you're sitting down to study, but sometimes the silence can be even more distracting. If you need to have a soundtrack to help you focus, instrumental and classical music is generally the recommended go-to. With no lyrics to distract you, you can focus on your work. Favorites can include classics like "Piano Concerto No. 23", by Mozart or instrumental soundtracks from movies you love.
But what if you just don't like instrumental music? It's not for everyone, and that's okay! If you want to have some music in the background to help you focus on the study unit in front of you, sticking to familiar favorites can help. No matter what genre you prefer, songs that you've listened to many times over and know by heart can make focusing a bit easier. Our brains are always looking for changing patterns and, if you listen to songs that you don't know or music that is attached to a very emotional period of your life, you'll find yourself distracted over and over.
Since everyone has different favorites, finding a generic playlist isn't your best bet. Take a few minutes to think of an hour's worth of songs you know like the back of your hand. If you need to get started, here are a few classics everyone knows.
Everybody Hurts - R.E.M.
Hey There Delilah - Plain White T's
Hallelujah - Leonard Cohen
Come As You Are - Nirvana
How to Save a Life - The Fray
Space Oddity - David Bowie
Bohemian Rhapsody - Queen
Not sure a playlist is for you? Try an ambient noise machine or nature sounds to help you focus in a silent room.
Celebrate each milestone.
When you've finished a particularly tough study session or you got through an exam that you were afraid of, you deserve to celebrate. Reward yourself with some of your favorite, fun party songs and dance off any lingering stress.
Need some upbeat inspiration to create your own celebration playlist? Listen to a few of these favorites to get started.
Footloose - Kenny Loggins
Daylight - Matt and Kim
I Gotta Feeling - Black Eyed Peas
Downtown - Macklemore & Ryan Lewis
Shake It Off - Taylor Swift
Hey Ya! - Outkast
Don't Stop the Music - Rihanna
Prepare to reach your goals with confidence at ICS Canada.
You know you can work at your own pace with your ICS Canada program, but keeping yourself motivated and avoiding procrastination can be tough when you can decide your own study schedule. But guess what? You can absolutely make it work! If you need a boost of confidence and motivation, a playlist could be just the thing you need! Feel like you need more help with study strategies? Don't hesitate to reach out to our Student Advocates at 1.888.427.1000 to see how you can get some help!