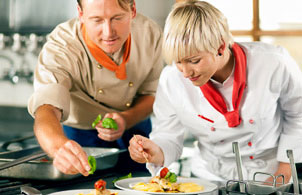 Caterers prepare and serve food and beverages for events and banquets in restaurants, for weddings and parties, and even on cruise ships. Here are a few qualities that effective caterers have in common:
Communicative: You like to take charge of projects and organize tasks for many people.
Organized: Keep food and cooking ingredients in the right places.
Flexible: Catering businesses often have irregular hours.
Healthy: You are conscious of healthy eating and living habits for you and your loved ones.
Detail oriented: It's important to have a sharp eye and check things twice.