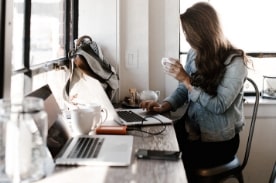 Furthering your education by going back to school isn't just for students who want to finish high school or earn a degree. As someone who is looking to qualify for a promotion at work, or to gain real-world skills you can use to start down a brand new career path, the time it takes to complete a full degree or diploma program is something you simply don't have. At least, right now. But how can you make your career goals a reality now? Add new skills to your resume! Here's how ICS Canada's short and flexible online career certificate programs can help you build up your resume on your schedule.
How short online certificates can help you boost your resume.
Earning short, flexible career certificates to add to your resume can help you stand out and gain knowledge your way — without having to spend years working to complete an expensive college degree. Many career-focused certificates can be completed in as little as a few months of online study, allowing you to earn multiple, related skills in a short period of time. For example, if you work in technology, adding a Computer Programming Languages certificate to your years of experience can help you prepare to take your career to the next level.
Or maybe you're working in marketing and want to branch out into public relations. You have the brand and communication skills from your work experience, but through a PR certificate, you can strengthen your understanding of the field and show employers that you're interested in learning new things.
On the other hand, if you just want to be more a more marketable hire in general, adding a universally sought-after skill like understanding Spanish can be the perfect move for you. With an online Spanish certificate, you can gain a foundational understanding of the language that is beneficial in a variety of jobs.
Do skills and experience matter more than traditional degrees?
In the past, a college degree alone could nearly guarantee you fulfilling, well-paying work. Today, a bachelor's degree is almost equivalent to a high school diploma in terms of weight on your resume, especially if you are hoping to build a career in a specialized field. Further, employers are starting to realize that a college degree alone doesn't predict whether or not a new hire has the skills to do the job they're hired for. That means there's an opportunity to prove that you've got what it takes to do the job well through your documented experience and the skills you've learned through the years.
Keep in mind that different roles have different requirements. Applying to jobs that require a master's degree when you don't have one or submitting your resume to positions that require licensing you don't qualify for doesn't look good. It can make it seem like you haven't bothered to read the posting, you're overconfident, or you don't pay attention to detail.
Overall, though, many large employers like Google and Facebook have found that hiring those with degrees doesn't necessarily mean the person has the tools needed to be successful in the role. Now, more hiring managers are following the trend, looking for job candidates that have certain sets of skills, experience, and attitude.
What type of skills can you learn outside of a four-year degree?
It's possible to lay a foundation for a strong career by building your skills and knowledge through shorter, work-focused training, but just adding random skills and certificates to your resume isn't going to cut it. If you want to find a job in a certain industry, or you want to have more leadership opportunities in your current role, being strategic about what you learn can make a difference. When you're talking "skills," employers are looking at two different types: soft skills and hard skills.
Soft Skills. Soft skills are essential in any role in almost every industry. These are the things that make you hireable and trainable. From being able to adapt in new situations to having strong written and verbal communication skills, these types of skills can make you an ideal hire. You can learn to complete tasks during on-the-job training, but if you aren't flexible, open to learning, and good at communicating what you do and don't know, it can be harder to do so.
Hard Skills. Hard skills are those that can be job-specific or technical. These are the things you'd learn on the job, in a training program, or through a certification process. While soft skills can be demonstrated through experience in almost any industry, if you're looking to get a job in a specific field, you want to have skills that are relevant to that particular role.
Build skills you can use with ICS Canada.
With ICS Canada's self-paced, online career certificate programs, you can work toward creating a strong resume for the career you want, on your own terms. Employers are looking for more than just college degrees these days, so adding knowledge and training to your experience can help you be career confident. Not sure where to start? Speak with an Admissions Specialist today at 1-888-427-2400.